Don't Go Break'n My Heart SPASH Showtime 2018
By MANUEL LUPERCIO
The Mirror reporter
Showtime is an annual event hosted by SPASH's choir and music department. This year Showtime will be held Thursday, Friday, Saturday, Sunday, May 3 through May 6; Tickets this year will be available at Jim Laabs Music, for general admission and reserved seating, and Heid Music for general admission starting April 14, and in front of the auditorium at SPASH from 11:30 to 1:00 starting April 23. They are also available at the door, just before each show.
Showtime and choir director Deb Pionek, who was in Showtime in its debut production in 1979, has been working hard with her choir students for their big group acts as well as helping all of the other acts that will be in the show.
The co-directors are Dena Mercer and Kinden Vazquez.  There are 85 choir students in the show.  The choirs are accompanied by SPASH Band students, under the direction of Brad Schmidt.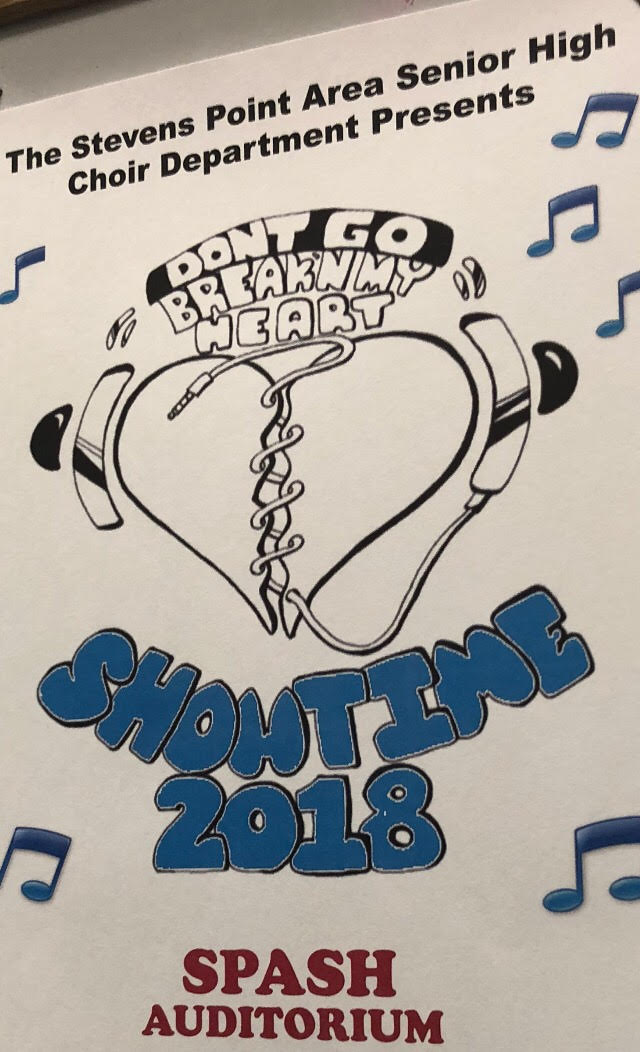 Technical director Bryant Hedrington and lighting technician Ben Hellenbrand have already been hard at work assisting SPASH's stage crew in providing a great show for the acts to perform in and for everyone to see. Kasey Hedrington is the assistant technician. All of these individuals are SPASH alumni.
Choreographer Rachel Wadina, who is a senior at SPASH, said, "it's super fun yet very difficult! It's interesting to work with both of the choirs and put them together in the bigger pieces and see how it all comes together." Wadina said it's fulfilling "to see that everyone enjoys what they're doing and executes it very well with no dance experience. Working with 60 high schoolers can be very overwhelming, but it's wonderful to know that I'm a part of the group. Last year I was unable to be in Showtime because I had my dance recital the same weekend. To make up for the grade I choreographed the show. I think that because Mrs. P and Mrs. [Dena] Mercer liked it so much they asked me to do it again! Plus I love doing it, and it's a great experience for me."
Noah Tolbert, who is a senior in the choir, said, "Showtime has always been a unique experience," adding "choir kids get to put together something that's our own and bring it to life on stage.
"I've had some amazing experiences with Showtime. This is my last year doing it, and honestly, I'm a bit sad but, at the same time, I'm glad that I'm going out on a high note with so much good to remember."
SPASH Showtime has been going on for over three decades and every year it provides SPASH students with a fun and exciting experience to be a part of whether they're singing, helping direct acts to their spots behind the curtain, working sound or lights, playing instruments for the singers, or choreographing some of the acts. There's a place for everyone who wants to get involved to do so.