Vollendorf's first 18 months
By MARK STOSKOPF
The Mirror reporter
A familiar face has returned to the halls of Stevens Point Area Senior High (SPASH) and has a new role.  As of last year, SPASH has acquired a new principal, Dr. Jon Vollendorf.
Vollendorf was an English teacher for 12 years at SPASH before becoming the assistant principal for seven years.   While he was an assistant principal, he was also the girls basketball assistant coach.  He then moved to PJ Jacobs Junior High School and was the principal for one year.  He also worked as the Director of Secondary Education for one year and then was selected to be the principal at SPASH.
Vollendorf said he enjoys his job. "One thing I love about SPASH is there is always something going on."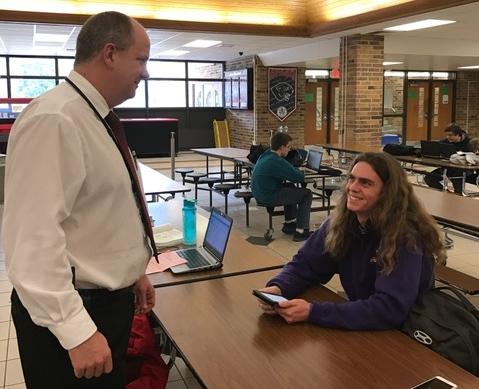 Vollendorf loves his relationship with the student body.  "I wouldn't trade our students for

anybody," Vollendorf stated.  "I work really hard to connect with the students."  One of the favorite parts of his day is in the morning when he stands at the door where all of the students enter and he holds the door for them.  "That is how I get to know my students.  I see them every day, I learn as many names as I can and that is something I will never be good enough at and something I will work at constantly."
He added, though, "you are really never prepared for is the depth and intensity of the job requirements.  I knew the hours were long and that held true."
Being the assistant principal at SPASH for so many years helped him in many ways.  "Being the assistant principal really taught me how to work with everybody from the elite student who is going to the Ivy League, to the student who might not like coming to school and is looking for a reason to be here."
"One challenge was going from assistant principal to principal," Vollendorf said.  He compared it to the difference between being assistant coach and head coach of a sports team.  "As an assistant, you can make suggestions of what you think should be done but as the principal you make the decisions."
"What's always a challenge is knowing when to use input and feedback and knowing when to make a decision that you feel is best and going from there," Vollendorf said.
Two of Vollendorf's main responsibilities as principal that he does quite often are coaching teachers and overseeing all areas of the building.
One aspect of SPASH that Vollendorf loves is that it is like a little city.  "We have 104 teachers, 1600 students and 50 support staff.  It is a lot of fun to work with all of those people."
Vollendorf has had a lot of good memories as the principal at SPASH.  "Without question, homecoming week is my favorite week. I love homecoming week and the buzz of all of the positive energy toward the school.  That is something that is hard to cultivate in a big school," Vollendorf said.
"Watching many of our teams last year compete in and win state last was a great memory for me as well," Vollendorf said.
Another good memory of Vollendorf's was graduation last year.  "It is a culminating experience for the students and especially for the families."