Daily Dose, Nov. 11, 2016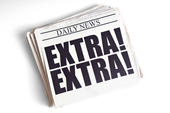 National: Today is the 97th commemoration of Veterans Day. The holiday was first announced on Nov. 11, 1919. It was called "Armistice Day." In 1938 the name was officially changed to Veterans Day.
Local: The Stevens Point Journal reports that one-third of Portage County families are among the working poor or are in poverty. Many households struggle with basic necessities such as the cost of housing, food, transportation and health care.
SPASH: The varsity football team will head to Oshkosh to play in the semi-final playoff game against undefeated Kimberly. Kickoff is at 7:00 p.m.