Daily Dose, Nov. 10, 2016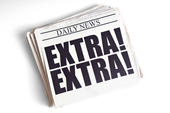 National: The election is behind us but the U.S. is still feeling the aftershocks. Luckily American citizens have Ellen DeGeneres to help make sense of what has been a confusing and surprising time for many Americans. She gently reminded her viewers Tuesday afternoon that "even in the midst of a great political divide, Americans are, by and large, more alike than we are different….We all love our country." DeGeneres stated during her heartfelt monologue, which was taped before votes began to flood in for the candidates, "We just have different ideas about what's best for it which is probably what makes America great."
State: According to CBS News, nooses and ropes will be prohibited from the University of Wisconsin-Madison. New revised standards will be put in place for their home athletic events. Nooses and ropes are considering weapons. A fan wore an offensive costume, a President Obama mask with a noose, to a Badger football game.  Security asked him to remove it but he continued to wear it.  Due to freedom of speech concerns, he was allowed to stay but with the new policy, UW is ensuring sporting events are free from offensive conduct.
Local: The Stevens Point Journal reported Republican newcomer Patrick Testin defeated Democratic incumbent Sen. Julie Lassa in the race for the 24th Senate District seat. Lassa has been a state senator since 2003. Testin is chairman of the Republican Party of Portage County and works as a sales representative for a wine distributor. Both live in Stevens Point and ran uncontested in the August primary.
SPASH: This Friday will mark the biggest SPASH game of the football season as they play against undefeated Kimberly in Oshkosh. Kimberly has the longest high school win streak in the country (54-0). Kimberly's game last week against Fond du Lac was a nailbiter as they were losing during a portion of the game however, in the end, Kimberly prevailed. SPASH played Bay Port last week in a very close game. SPASH sealed the deal with a game winning field goal from Joey Dorgan, Jr. If Kimberly's streak is breakable, SPASH will be the team to end it. Whichever team wins this game will play in Madison for a shot to be state champions.