Daily Dose, Nov. 4, 2016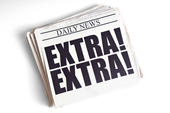 Local: Stevens Point may raise property taxes to fund road work instead of imposing a car registration fee. Since there is a great amount of controversy about the subject, the final decision has not been made yet.
National: According to USA Today Washington is on high alert for terror attacks on the eve of Election Day. The locations that are the targets of interest by al-Qaeda are New York, Virginia and Texas.
State: UW-Stout student Hussain Saeed Alnahdi was found violently beaten to death early Sunday. Police aren't dismissing that this attack was a hate crime. With no leads or witnesses to help pinpoint the suspect, students are scared to walk the streets at night knowing the killer is still out there.
SPASH: SPASH boys football team will be traveling to Bay Port High School in an attempt to win another playoff game. Kickoff will be at 7:00 p.m.