Daily Dose, Nov. 1, 2016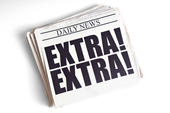 National: A Halloween hayride crash killed at least three in Chunky, Mississippi. Two children and one adult were killed and multiple others suffered "life-threatening" injuries when a truck plowed into a Halloween hayride in rural Mississippi, authorities told NBC News. Highway Patrol Sgt. Andy West told NBC station WLBT of Jackson that the trailer was rear-ended by a Ford F-150 truck.
State: A Wisconsin Rapids mother found a nail inside her child's candy after trick or treating on Halloween. The mother reported that her child was trick or treating around the library in Nekoosa and on Clark Street in Wisconsin Rapids. She isn't sure which house gave out the candy. Police do not have any leads.
Local: The Boys and Girls Club had a Halloween party on the 31st. Attendees dressed up as black cats, witches, genies and more.
SPASH: Congratulations to Nora Widder and Alexis Iwanski, SPASH Top Cats of the Week.  Widder and Iwanski are being recognized by the Driver's Education Department.