Daily Dose Oct. 27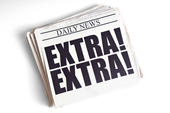 National: According to NBC News many schools across America that have polling booths plan to not have school on election day because of fear of violence. This is the first time the threat of violence has been high enough to close schools.
State: The trial continues today for Alec Cook, student at UW-Madison, already found guilty for nine counts of sexual assault and more women are stepping forward. According to The Washington Post, a Dane County prosecutor said the man will be charged with 30 counts. These counts include felony sexual assault, false imprisonment and strangulation in connection with alleged sexual assaults.
Local: SPASH varsity football team will host the Hudson Raiders and hope to win their second playoff game. Kickoff will be at 7 p.m. at Goerke Stadium.
Local: A new restaurant is opening in Plover.  Panera Bread will open this upcomingMonday morning. It is located in Crossroads Commons, by Chili's and Golden Corral. They have food ranging from bakery items to salads and soups.
SPASH: SPASH boys soccer plays their third playoff game tonight. D.C. Everest will be host to the Panthers at 7 p.m. The first 25 SPASH students are able to get into the game for free.