Daily Dose Oct. 26, 2016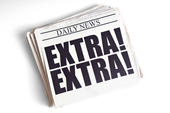 National: According to the WCVB news a New Jersey father jumped off an interstate bridge holding two toddlers. The children survived but the father died. "The officers found the children conscious and alert, it was nothing short of a miracle, that's for sure," said Capt. Christopher DePuyt of the Pequannock Township Police Department. "Trees underneath the bridge near the river apparently cushioned their fall." The children are being treated for non-life-threatening injuries at a local hospital.
State: Wisconsin State Journal reports that state park camping fees increased to offset the withdrawal of tax support but has had no effect on state park attendance in 2016. Camping registrations and nights camped in 2016 were a lot greater than in any year since 2008. Governor Scott Walker ended tax support to the parks system and increased fees as part of this two-year budget starting in July 2015. Before the two-year budget, tax revenue made up $4.7 million or 28 percent of the state parks budget. Camping fees increased on July 28, 2015. Annual admission went up $3.00, daily passes went up $1.00, and campsites for Wisconsin residents increased to $3.00 to $5.00 per night.
Local:  The Stevens Point Journal reported that, Chelsea Clinton, the 36-year-old daughter of Democratic presidential candidate Hillary Clinton, visited the University of Wisconsin-Stevens Point to urge a crowd of about 250 spectators — many of them students — to vote early and support her mother's campaign. Clinton praised and argued in support of her mother's record of public service and her policies.  Taking a handful of questions from the audience, Clinton talked for about half an hour before departing the stage to a great round of applause.