Daily Dose Oct. 25, 2016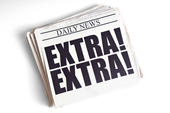 National: NBC News reported that  former Minnesota Viking Greg DeLong feels like a "walking time bomb" who could end up with brain disease from all the hits he took on the field.  He now has to worry about his son who has joined football.  New studies have shown that only after one season of playing football, kids' brain tissues can be negatively affected after only one year of playing.
State: The Wisconsin State Journal writes that a $260 million mine is planned to be built on the Menominee River on the border of Wisconsin and Michigan. The mine would disrupt the largest spawning site of sturgeon in the Lake Michigan Basin and will be built on the Menominee Indian Tribe sacred grounds. The mine will be built by 2019 and will last 16 years.
Local: The Stevens Point Journal reports a 1 year-old Wisconsin Rapids boy was kidnapped in Milwaukee at 6 p.m. Sunday when burglars stole the car that the infant was left unattended.  The boy and car were found and  returned safely to the mother. The criminals are still unidentified.
SPASH: SPASH Boys Varsity Soccer will play in the sectional round of the playoffs against D.C. Everest this Thursday. The game will be held at D.C. Everest Middle School in Schofield and starts at 7:00 p.m.