The Daily Dose for Oct. 24, 2016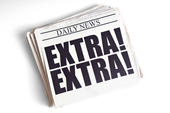 National- Michael Botticelli of the White House reported that Oct. 22 is National Prescription Drug Take- Back Day. Nearly 130 people in the U.S. die every day from a drug overdose and most of those involve prescription opioids or heroin. People could drop unneeded or expired prescription drugs at a safe, legal collection site in their neighborhood. More than 6.4 million pounds of medication have been collected at past Take-Back Days. This day helps prevent people from overdosing every day, which is a huge problem in America and should not be taken lightly.
State- Jason Stein of the Milwaukee Journal Sentinel reported that the Wisconsin early voting numbers are tallied and already 223,600 out of the 289,400 ballots mailed out have been returned.
Local- Gene Kemmeter of the Portage County Gazette reported that Ministry St. Michael's Hospital in Stevens Point will construct a $4 million breast care center to help ensure that every woman receives an annual screening. The fund drive for the center was announced on Oct. 9. Pledges and donations totaled $2,412,160 of the goal for the center. This center is going to help many families in Portage County and the surrounding areas.
SPASH- Stevens Point Area Senior High (SPASH) boys and girls cross country teams have earned their place in the state meet. The Stevens Point Journal reports that the both SPASH cross country teams received the top score of the meet. Ricky Perez won the Division I Sectional meet for the boys with a time of 16:10. Other team members competing that day were Derek Franz, Liam Belson, Mark Stoskopf, Monty Flatoff, Chad Franz, and Mason Meixner. The girls cross country team members are Maddie Hyland, Grace Belson, Madelyn Schneider, Mya Zajakowski, Carly Olsen, Kaylee Newland, and Miranda DeBot.