Daily Dose Oct. 20, 2016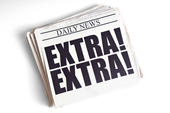 National: The final presidential debate happened last night between republican candidate Donald Trump and democratic candidate Senator Hillary Clinton. Odds, as reported in the New York Times , are that senator Clinton has a 92% to 8% better chance of winning over Trump.
State: Green Bay Packers fight in the NFC North conference match up. They will be host to the Chicago Bears at Lambeau Field.
Local: Mark Toyota donated a Toyota 4Runner for a new drug dogs' handler to use, according to a story in The Stevens Point Journal.
SPASH: SPASH boys soccer has their first home playoff game tonight at 7:00. They will be host to the Wausau West Warriors at PCYS Complex.