The Daily Dose Oct. 19, 2016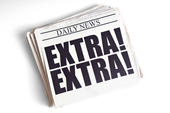 NATIONAL: The Washington Post reported the nation's on-time graduation rate rose to 83%. The graduation rates in 2010-2011 was 79%. American Indians rose 6.6%, Asians rose 3.2%, Hispanics rose 6.8%, Black students rose 7.6%, White students rose 3.6%, low income students rose 6.1%, students with disabilities rose 5.6%.
STATE: A 20-year-old UW-Madison student, Alex R. Cook, was arrested in downtown Madison on Monday. Cook and the victim knew each other. Cook was arrested on two tentative charges of sexual assault, strangulation, battery and false imprisonment.
LOCAL: Stevens Point City Times reported that in Amherst Junction Christina Ferguson, 32, of Amherst Junction, has been charged with disorderly conduct for allegedly smearing Jif peanut butter on several vehicles parked at a Tomorrow River Conservation Club meeting, which she mistakenly took for a Donald Trump rally. Ferguson said she had been terrorized by Trump supporters and "hated Donald Trump and loved Hillary Clinton."
SPASH: The SPASH soccer team takes on Wausau West Wednesday night at the Portage County Youth Soccer Complex. The game starts at 7 p.m.