Classes and clubs get involved with activities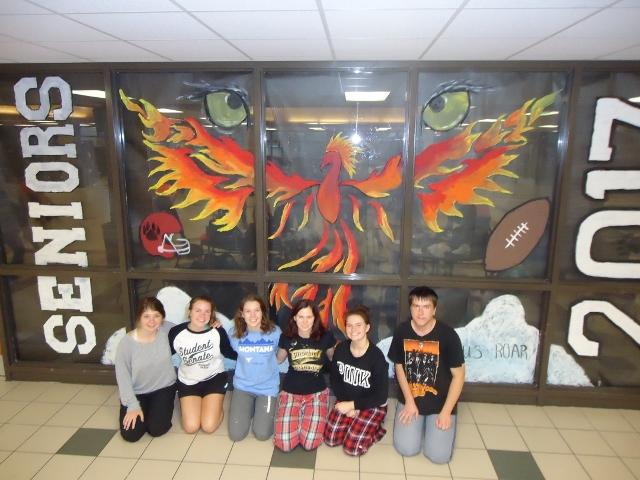 By MALLORY BUETOW
The Mirror reporter
Homecoming week for Stevens Point Area Senior High (SPASH) came with many exciting events this year. Some of these include class window paintings, dress up days, parade floats and activities.
The sophomore, junior and senior classes competed against each other to see who could create the best window design. This year's theme was "Up, Up and Away."
The senior class window had a huge red, orange, yellow and white bird with panther eyes painted in the center followed by the words "SENIORS" and "2017."
Juniors went for the hot air balloon design. Their window included an array of hot air balloons, clouds and the saying, "CLASS of 2K18."
The sophomore window was painted with a spaceship which had a Wisconsin Rapids football player in the window. This represented the raiders football team going "Up, Up and Away."
The seniors won the class window competition followed by the sophomores in second and juniors in third.
The next competition between the classes and clubs were the parade floats. Twenty-five floats were included in this year's homecoming parade.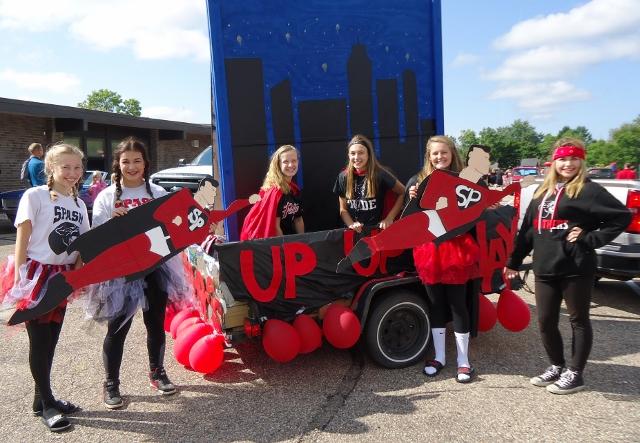 The sophomores won the class competition with the design of buildings and a super hero standing in front of the float. Seniors took second, and once again, the juniors took third.
The Fernandez Alternative School won the club float competition. Their float featured a house with a bird on the top and multiple balloons surrounding the float.
Second place was awarded to SPASH health assistants for their Wizard of Oz theme. They worked over 20 hours on the float and everyone contributed by bringing in different items.
"During our summer school training we discussed different float ideas and this idea sparked! Wizard of Oz goes well with the theme of "Up, Up and Away;" it was original and something we could make our own," health assistant Jesse Praefke said.
In third place was Asian American Friendship Club. The float was decorated with colorful paper and members in traditional garb walked alongside it.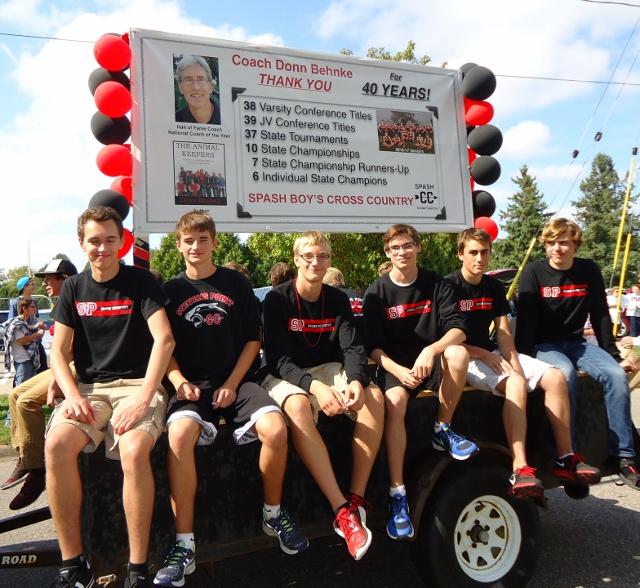 SPASH boys cross country, which rarely participates, had a float for the parade featured a huge banner which thanked Donn Behnke for his 40 years of coaching during which the team has gone to 37 state tournaments and were state champions 10 times.
"It seems as though Donn hasn't been seen or really known about outside of the cross country community. It was cool to let the public know of all of his accomplishments," senior Mark Stoskopf said.
During homecoming week there were different dress up days and many lunchtime activities going on.
"I think SPASH dress up days make homecoming more interesting for the students and bring spirit to the school," SPASH sophomore Kaylee Hintz said.
Dress up days included pajama, tie dye, USA Patriotic, Hawaiian, and Panther Pride. On Monday popcorn was served and on Wednesday Student Senate sponsored free root beer floats for all students.