Students on the Stage: Recent and Upcoming Performances at SPASH
People buzz around, finding seats in a spacious auditorium, talking to their neighbors, programs in hand. All at once, the lights in the audience dim, and the stage lights burn bright, followed by students advancing to the center of the wooden stage, ready to perform for family and friends. The performing arts are an integral part of high schools all over the country. The programs allow students to experience being onstage and showcase their accomplishments, and many students look forward to performing. Whether it be music or acting, SPASH has many opportunities for kids to get a taste of the spotlight.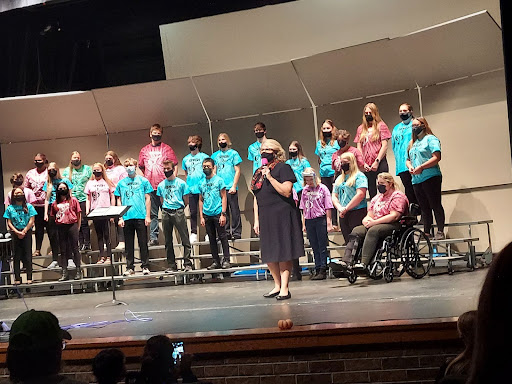 Choir Concert
The first groups to take to the stage this year were the choir classes, including SPASH Singers, Counter Pointers, and Concert Choir. On Tuesday, October 19th, all choir classes performed onstage to an audience filled with supportive family and friends. The choirs have been preparing for the concert since the beginning of the school year. As one Concert Choir student, Grace Babl, put it, it was "A bit intimidating with the concert date coming up so quickly,  but I believe we will pull together as a choir and put on a great performance!" – and that they did.
The concert began at 7:30 pm, and first onstage were SPASH Singers. They began the concert with "No Need to Knock!" a lively song that SPASH Singers executed with vivacity. The singers followed with "Roots Before Branches,"a beautiful, heartfelt song dealing with growing roots before you reach for the sky. They ended their section with a song called "Closer to the Flame", which was about being ready to reach past their comfort zones.
Next onstage were Counterpointers, a jazz song group that students must audition for and be in Concert Choir at the same time, so, in short, a very talented group of singers. They revved up the audience with their first song, "Swinging on a Star" by Frank Sinatra, an exciting song featuring three soloists – Sydney Grajkowski, Gracie Gunderson, and Madison Larsh. Next up was "Unforgettable", a stunning ballad featuring Emma Nicholl and Tyler Swanson as soloists. For their last song, they sang "Blue Skies", which was a buoyant song featuring Andrew White on the bass and Shannon O'Donnell as a soloist. 
The last group onstage was Concert Choir, a choir for which auditions are required. They opened with "Autumn Leaves", a graceful song about lost lovers. Next u was "The Road Not Taken", written originally by Robert Frost, a song that was originally a famous poem from which the term "The road less traveled" was coined. The poem is about choosing between two paths in life, and wondering what could have been. Concert Choir ended the concert with an animated spiritual named "Ain't Judgin' No Man". 
Needless to say, the concert was a huge success. Many people showed up to watch,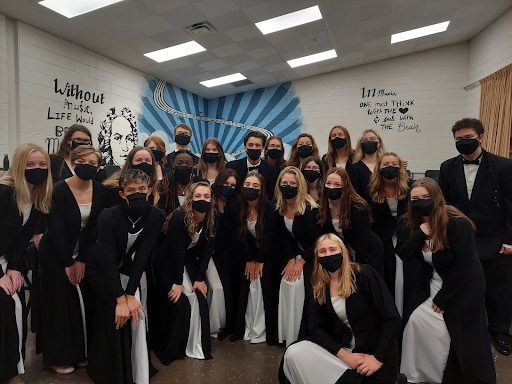 and all of the choirs performed amazingly, as did the accompanists, Maiah Hamre, Avery Hamre, and Haden Nguyen. Mrs. Pionek, the teacher for all of the choirs, stated, "I'm very excited and so are the students to finally have a chance to perform again!". Now we are all eagerly anticipating the choirs' next concert on December 14th.
Orchestra Concert
Two days after the Choir concert, the SPASH and P.J. Jacobs Orchestras swiftly followed  on stage. The concert took place at 7:30 pm on the 21st of October; a Thursday. Many of the orchestra students were eager to take to the stage and perform again. "We've been working really hard, there are some well known songs which make them easier to play" Reported Alex Cornell, a first violinist. The song choices were also something everyone was excited to both hear and play for audiences. "There are a lot of recognizable and Halloween related pieces, so it should be enjoyable for all ages," described Sara Zuge, a Cellist in the SPASH Orchestra. 
First onstage was the P.J. Jacobs' Concert Orchestra, which is the orchestra that all of the 7th graders go into. To begin the concert they played Allegro, and followed with "Ode to Joy" by Beethoven, "French Folk Song", and "Hunter's Chorus". They ended their section with the classic "Bile 'Em Cabbage Down". 
After the concert orchestra came P.J. 's Chamber Orchestra, in which the 8th and 9th graders play. They began with "Great Key Chase", followed by "Ungaresca (Hungarian Dance Tune 1583)", "Rujero from Suite Española", "Ja nuns hons pris (Song of Captivity – 1194 A.D.)", and brought the P.J. Jacob's portion of the concert to a close with "Mystic Caravan" . 
Last on the stage was the SPASH Orchestra. They opened with, "Arlington Sketches", and followed with "Eine Kleine Nachtmusik" by Mozart, "The Wizard of Oz"(a mashup of all a few popular songs from the musical), "Arachnid's Lair", which was a surprise piece not listed in the program, and "This is Halloween" from "The Nightmare Before Christmas". Following their performance, The P.J. Jacobs Chamber Orchestra joined the SPASH Orchestra on stage, where they played a joint piece titled, "King William's March".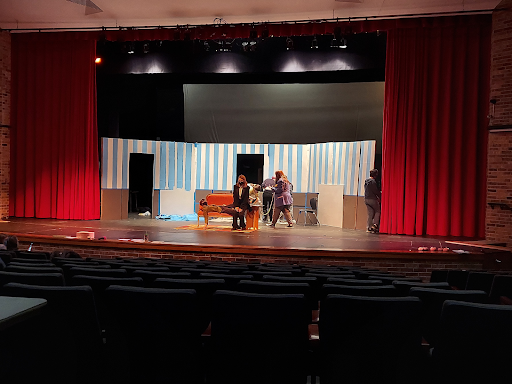 A Night of Confusion
The Fall collection of One-Act plays are an activity many students look forward to participating in. This year the performance of the One-Acts will take place on November 5th and 6th, starting at 7 pm both nights, with tickets costing $5 each.
Every year for the One-Act plays, there is a theme in every play, and the entire show is given a name based upon the prevalent themes. This year's theme is "A Night of Confusion", a fitting title for the plays that are due to perform. 
The plays included in the event include "An Actor's Nightmare", "The One-Act Play that Goes Wrong", "Bad Blood", and "Payphone". All include an aspect of confusion, panic, and comedy. Mrs. Mercer, the director, disclosed that the idea for the theme originally began with "The Play that Goes Wrong", which she thoroughly enjoyed. "It Started with "The One Act Play that Goes Wrong" when I saw it was available to use," She confided. From there she searched for plays with similar themes of confusion in a comedic way, and she was able to put together the four plays that the actors are to perform. All of the actors in all of the plays are excited for opening night, and everyone involved has been working tirelessly to ensure success. "It's gonna be really great, we've all been working really hard and I can't wait to see how it turns out," Says Ana, the student director for the plays. 
The Fall Play is an event that brings joy and anticipation, but it is also a lot of work. The director – Mrs. Mercer – reported that she puts in at least 200 hours of work into just rehearsals. This does not include planning for blocking, stage setup, or costumes. Mrs. Mercer, however, has been directing plays for over half of her entire life, so all of the actors and stage crew know they are safe in Mrs. Mercer's experienced hands. 
Nevertheless, putting on a play is hard work. It is not only memorizing lines, but also getting props and costumes, set building, lighting, and, Mrs. Mercer's least favorite part, publicity. It is completely understandable that one would worry themselves to death over getting everything just right. Even so, the job is rewarding. When opening night comes along, there are nerves, but there is also a buzz of anticipation. When the audience laughs at the jokes, and gasps at twists, and applauds at the end of the night, the "look on the cast's faces after opening night," as Mrs. Mercer puts it – those are the rewards for all the hard work invested in putting on plays. 
Conclusion
Be it choir, orchestra, band, or acting, it is nice to have a chance to perform again. The school's performances allow students to show what they can accomplish; a chance for them to gain recognition for their abilities. The performances also allow the audience to enjoy quality entertainment. School performances are an event where everyone benefits from attending. It is something everyone, whether you know someone performing or not, should consider attending.