Support educational options
Wyatt Cornell
THE MIRROR
In today's society, there are many options when it comes to education. Traditionally, students have been prepared for attending a four-year college. Throughout my high school career, there has been a constant push toward preparing for college. Advanced Placement courses, Dual Credit courses, and trips to my counselor are all reminders of an upcoming college career. However, I don't think college is necessarily the best idea for me.
I consider myself an entrepreneur-in-training. I would prefer to start my own business than to go to work for someone else. I realize that there are greater risks in doing that, but I enjoy the challenge. Since I was young I've been trying to follow in my dad's footsteps. He helped me set up jobs shoveling snow, mowing lawns and other various minor jobs. As I got older, the people I worked for started offering me more complicated jobs doing landscape and small building projects. Once I had my driver's license, it opened even more possibilities.
At some point, I decided that I wanted to cut and trim trees for my first real job. After talking with my dad, I decided that a four-year college wasn't really appropriate for me. Even in examining the two-year degrees, specifically the Urban Forestry program at Mid-State Technical College, I saw that I didn't need a lot of the courses that were part of the program. I thought my best option might be to work with someone in the trade for a hands-on approach to learning.
There are a lot of students who like the idea of going to a traditional college. I think that is a fine path for someone who might benefit from a business administration or a marketing degree, but even then, a lot of the courses are not really pertinent to most careers. I don't think that taking religious studies and physical education classes are necessary for going to work managing a restaurant, for example. They might make me a more well-rounded and physically fit person, but paying for these courses won't have any benefit for me in the workforce. Further, a typical college final teaches students nothing more than to retain a lot of information for a short period of time. A lot of people will tell you that they forgot most of what they studied for a final shortly after they take it.
These days, a lot of education is done online. Some high schools have been doing it for years. Some students have a hard time with it, but I think it's largely because they aren't used to the concept and haven't been exposed to it their entire life. Numerous colleges have online-only degrees available. I think that eventually most schools will offer online learning of some type. This last global pandemic forced everyone to try it out. A lot of mistakes were made, but much was learned from those mistakes. Perhaps the recent events will speed up the process of offering online courses. What I would like to see is the option to take individual courses online. This would allow people like me to adapt their education by taking only the courses they would need for their career, and not making them pay for courses to get "a degree."
Although traditional learning has worked for most over the years, it needs to change to keep up with the modern world. A lot of students don't learn well in the classroom, and different methods have been implemented to help with that. A lot of higher education systems have been adapted to include online learning, but it's still generally necessary to earn a degree. Times are changing, and the world needs more skilled-trade type workers. The pay scales have changed drastically, but I don't think the educational system has kept up. I think it's time to eliminate the need for a degree in a lot of these types of jobs. Hopefully the next generation has more options.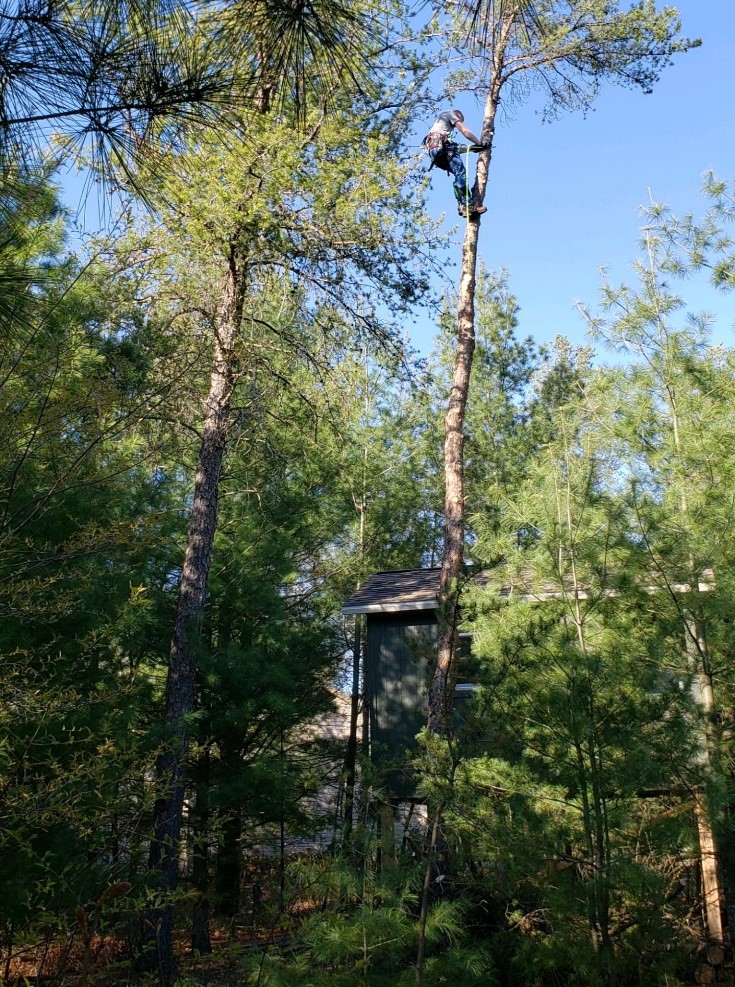 Wyatt Cornell is a junior at Stevens Point Area Senior High (SPASH). He has been an avid tree climber since he was very young. Some things that he enjoys doing besides climbing are engineering and critical thinking.