That's a wrap: A look at the graduating class of 2019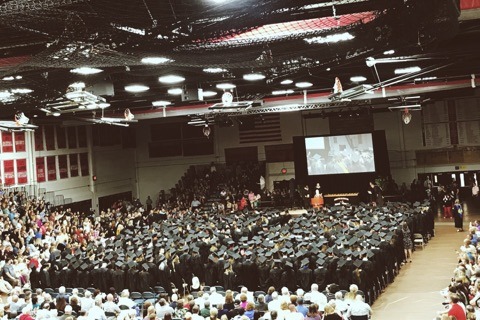 NAOMI CLENDENNING
The Mirror
Senior year of high school is filled with memories of lasts, but these lasts do not have to be sad. The highlights of being in high school are what shape individuals into their young adult selves. The class of 2019 left their mark on SPASH and will go on to explore their futures.
The senior class has finished their final days of their high school career and are graduated. With approximately 480 students in the senior class, a lot was accomplished. 1,047 dual enrollment courses and 1,104 Advanced Placement courses were taken by the senior class. With 62.1 percent of the students planning to attend a four-year university at 42 different colleges, there is a wide array of what the class of 2019 will accomplish.
While attending Stevens Point Area Senior High (SPASH), students were involved in sports, arts, music, and service-oriented clubs such as National Honor Society, Key Club, HOSA, and FCCLA. A total of 2,925 service hours were documented by the senior class, with National Honor Society documenting 1,750 hours. These clubs also planned the homecoming dance, Winter Formal, and Teacher Appreciation Week. The class of 2019 raised $10,892.75 from the Color Run for Marshfield Clinic Stevens Point local cancer patients.
At SPASH, many sports teams made it to their prospective state competition this year. Some of these sports were the boys and girls cross country teams, football teams, boys and girls swim teams, gymnastics, and boys and girls track teams.
With a record-breaking 10 days of school canceled due to winter weather, the SPASH musical, The Little Mermaid, was hit hard. Even though school was canceled, students worked from their houses on props, costumes, and practicing scenes in order to create the best performance possible.
Allison Kleman, a senior at SPASH said "Being able to participate in this year's production of 'The Little Mermaid' was one of the highlights of my senior year! The cast, pit and crew all did a wonderful job despite the many setbacks we had from multiple snow days. However, instead of letting this push us back we made sure to have extra practices to make sure the show was the very best it could be. I could not have asked for a better experience or a better 'family' to share the stage with."
The SPASH music department had an excellent year. With 78 students attending state Solo and Ensemble, 23 were a part of the senior class. The SPASH Jazz Ensemble I competed at the Shawno Jazz Festival and won first place in there competition room. Senior Nate Roth, trumpet player from the jazz ensemble, was chosen to perform with the professional house band at the final concert at the festival.
"The experience to play with Eric Marienthal and other professional musicians was great. The entire day of Shawno was definitely a highlight of my senior year and my music experience at SPASH." Roth said.
At the graduation ceremony, 30 valedictorians were recognized from the senior class. These students obtained a 4.0 grade point average while also participating in sports, music, clubs and working part-time jobs. After graduation, seniors came back to SPASH for one last night of good memories. At Project Grad, students had the opportunity to climb the rock wall, bungee jump on a trampoline, and watch a hypnotist and a magician. Everyone got a prize for attending the night. Door prizes of hammocks, water bottles, gift cards and college supplies were won as well. At SPASH Idol, Nick Langenhahn won the friendly competition. "Project Grad was a lot more fun than I expected and it gave me a realistic experience of what it is like to have a gambling addiction," Anna Bablitch said.