Be a blood donor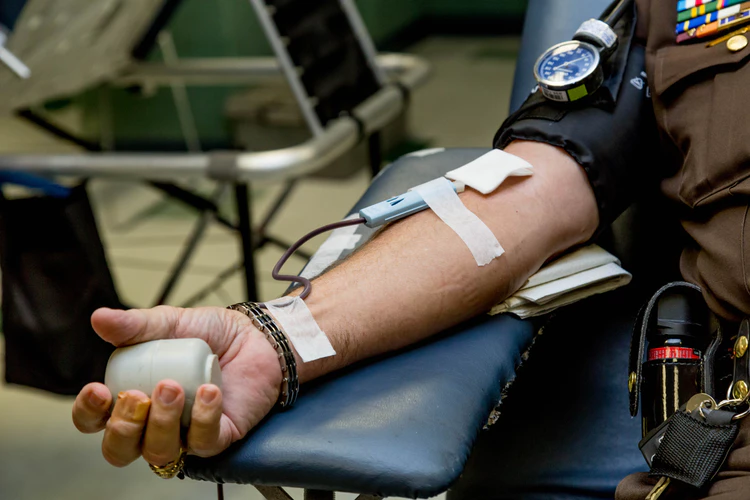 By WILLOW KLUCK
The Mirror reporter
On Nov. 21, Stevens Point Area Senior High (SPASH) held a blood drive. Many people donated blood including teachers, students and those from the community.
"This was my first time donating. The paperwork did take a while but I was happy to give blood to help others out," SPASH senior student Rebecca Likens said.
After the paperwork and physical exam, one will need to sit for a 15-minutes and rest on a reclined chair with your arm extended.
During the procedure, a blood pressure cuff or tourniquet is placed around ones upper arm to fill the veins with more blood. The blood-drawing process itself will only take about 10 minutes.
"Even though it took a long time with the paperwork, giving blood was not long at all. I have given blood before and am always eager to donate," Lincoln High school student Lacie Boardman said.
The most sought-after donors are those with the type O blood. Those who are type O are considered "universal donors" because their blood can be matched with those belonging to any of the four blood types: A, B, AB, and O.
Anyone can be one of 6.8 million yearly donors in the United States who has done something to help others. SPASH will be holding another blood drive on Jan. 21. Another way to find out where blood drives will be taking place is to look at the Bloodcenter of Wisconsin website. Someone's blood could save one or more lives.
Everything that is good comes with a risk just like donating blood. One could contract a disease from a blood transfusion or an infection due to a needle poke.
Some of the most common viral agents that can be transmitted through blood are human immunodeficiency virus (HIV), Hepatitis viruses, West Nile virus (WNV), cytomegalovirus (CMV), human T-cell lymphographic viruses (HTLVs) or the parvovirus B19.
Viruses are not the only agent that can be transmitted through blood, but bacteria and parasites can as well.
Besides viruses, some cons to donating will be bruising, continued bleeding, dizziness, lightheadedness, nausea, pain and physical weakness. After giving blood the nurse will advise you to not overuse that arm for five hours and to have a nutritious meal.
Donating blood is a time-consuming thing. It can take about an hour and 15 minutes from the time one arrives to the time one leaves. This includes the testing and paperwork beforehand where one will receive a physical exam and an initial finger prick blood test to check hemoglobin.
Despite risks, there is good donating blood can do. According to healthline, in the United States, someone needs blood every two seconds.