Panther Pro Shop offers goods, experience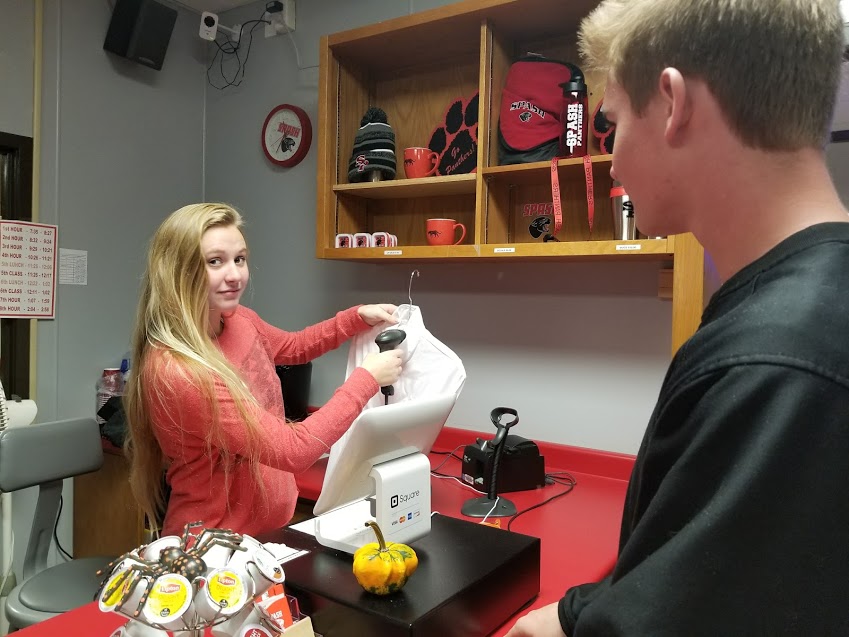 By TARREN LEWIS
The Mirror reporter
The Panther Pro Shop, located between South Commons and the Guidance Office at SPASH, offers students a wide variety of snacks, drinks and school apparel for purchase.
Trevor Knight, a Stevens Point Area Senior High Business teacher, currently oversees the Pro Shop and has for the past four years.
"When I took over the store four years ago, it looked very different than it does today. The room was painted black, the counters were different, and had older models of cash registers. Since then, we've changed all of that, adding in new counters, updated cash registers, and repainting the walls of the shop, to a nicer, more friendly and inviting color," Knight said. "We've also added a Keurig, giving students an option for a warm coffee or hot chocolate to drink and our apparel options are delivered by Mada, but designed by our marketing and business class students."
There are a few changes that Knight would like to make, however, to make the business run smoother and more effectively.
"I would love to expand the store." Knight stated, "Not just spacewise, but also expand the store online. We already have a Pro Shop website, listing all of our apparel options, but people are unable to order apparel through the online store. It would be nice as it would allow people to purchase and order Pro Shop items during out of school hours and for sporting events."
Sydney Levesque, senior, and one of the many students who work in the Pro Shop, said the busiest times of day are, "during the lunch periods. Many students come into the shop to buy soda or candy or just to peruse the shop and view the apparel options."
Levesque said, "We also just got a new set of items in the shop for purchase such as card holders for the back of your phone, new water bottles, lanyards, blankets and jackets, all designed by students in the business and marketing classes."
With all the new features to the shop, and possibly still more to come, some students have their own ideas about the Pro Shop.
Nathaniel Rudnick, SPASH student, commented on a previous purchase. "I personally would like to see the clothing options labeled more clearly. I've bought two youth shirts by accident, due to a labeling error, and I've had to give them both to my younger sibling. A new sweatpant option would be nice as well."
Hope Nemeth, junior, stated, "During the lunch hours, the hallway leading to the Pro Shop is closed off, and sometimes we're not allowed to go down there, making it difficult to go into the shop, so changing the hallway restriction would be a nice, and welcome, change."
All proceeds from the shop goes back to the SPASH student community, giving the school more funding for events for the students, and for new options in the shop, while also offering students who run the shop a chance to see and feel what it is like to run a shop and gain valuable business and marketing experience.