Daily Dose, Nov. 28, 2016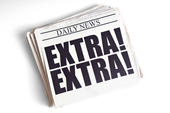 SPASH News The SPASH girls basketball team started their season three weeks ago and they're starting things off right. The team made a name for themselves in a tournament in Brookfield where they won one game and lost another. The team is 2-2 so far and should be better once All-State guard Maggie Negaard returns from a torn ACL injury last spring.
Local News Three people were arrested last Friday after robbing a gas station in Rosholt. Police report that The Store gas station was robbed by three masked men. All were carrying, what looked to be handguns. The robbers fled the scene after acquiring money and cigarettes. They attempted to escape police officers causing a high speed pursuit. The robbers crashed when trying to turn off of Highway 66 while trying to trick officers by turning off the headlights of their car. The suspects escaped on foot after the crash but were arrested later on the weekend thanks to leads. The suspects were reported as a 15-year-old, 16-year-old and a 17-year-old.
National News According to CNN there was an active shooter at Ohio State University. Several were hospitalized and the suspect killed. At least eight people were taken to hospitals, one of those eight patients is in critical condition. OSU senior Anthony Falzarano, 22, said "there's a lot of police and fire trucks and an ambulance outside the building. The officers are putting on Kevlar vests and have big weapons."  In addition to local authorities, the Bureau of Alcohol, Tobacco, Firearms and Explosives are on the ground in Columbus, spokesman Dave Coulson said.
State News Nineteen-year old Tony Robinson was killed on Saturday in Madison. Officer Matt Kenny fatally shot and killed the unarmed teen. Kenny is a 12-year department veteran, and in the past has killed a man in 2007, Police Chief Mike Koval said. Robinson was shot after he reportedly assaulted Officer Kenny. After the incident, protesters filled the streets and City Hall, chanting "Black Lives Matter." Robinson's mother, Andrea Irwin, told CNN she didn't understand what happened. "My son has never been a violent person, never," she said.