Daily Dose, Nov. 9, 2016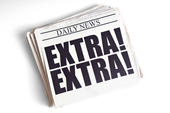 National: Election ballots have been counted and Donald Trump has won the title of President- Elect. According to CNN, Trump won with 289 electoral votes while Clinton finished with 218. Clinton won the popular vote by 191,661 ballots. 53% of males voted for Trump while 54% of women voted for Clinton.
State: Wisconsin Department of Natural Resources states that hunters need to become familiar with a few new rules that are going in effect this year ranging from tagging requirements, baiting restrictions, and for new buck only units. 2016 is the second year of electronic deer registration through GameReg. Hunters are encouraged to use a helpful GameReg tutorial that is found on the Wisconsin DNR website, if they have any questions. Wisconsin's four deer management zones and county-based deer management units have not changed for 2016. Each deer hunting licence (archery, crossbow, and gun) hunters will receive one Buck Deer Carcass Tag valid statewide. With an additional farmland (Zone 2) Antlerless Deer Carcass Tag that must be designated for use in a specific zone.
Local: An Amherst man has recently been arrested for physically abusing his daugther.  A neighbor reported that around 2:30 p.m., Marty E. Andersen took one of his daughters and put them in a headlock.  Anderson has a previous conviction of a fifth OWI offense.  He has spent two years in prison and two years of extended supervision.
SPASH: Big day for some of our SPASH athletes today as they signed to the schools they will be attending next year. Signing were (left to right)  Kali Schierl, Ohio State, gymnastics; Emily Luetschwager, Colorado State, tennis; Madeleine Burch, Bismark, ND,volleyball;  and  Aubrey Drohner, Indiana, softball.
International: After the election, the world is reacting with shock to Donald Trump's election. Most global stock markets are dropping. Many investors believe Trump's unpredictable nature could cause global turmoil. Most European stock markets are declining. This became clear after 9 p.m. when Clinton's chances of winning were in doubt. Markets have rebounded since then.