Ty Nelson wins the coveted Mr. SPASH title
By KAYLA WIMME
The Mirror reporter
Every year 18 boys from the senior class at Stevens Point Area Senior High (SPASH) fight to win the title of Mr.SPASH and this year's competition was no exception.
The first elimination round pits one team against another.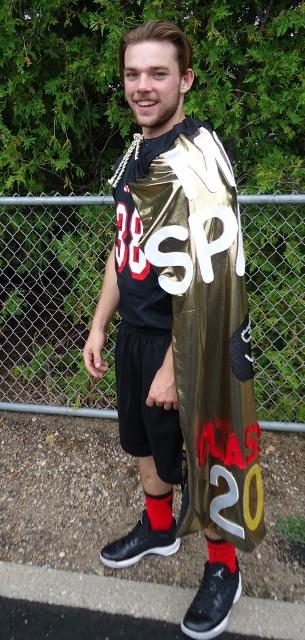 Red Team members McKennon Diekroger, Zane Fisher, Patrick Hefferan, Chinguun Khurelbaatar, Ty Nelson, Brandon Patoka, Joey Roth and Gus Turner-Zick were led by captain Spencer Tyson.
Black Team members Jacob Bielke, Seth Kluck, Nathan McNamara, Charlie Okray, Manny Ramos, Beau Rosenthal, Grant Roth and Treyton Zinda were led by captain Keonte Williams.
A video introducing all the contestants was followed by a routine with the cheerlead team. Red Team flipped stunted and jumped their way to the first team point earned.
Next the boys competed in their own version of American Ninja Warrior and jousting.
Red Team earned another team point with the American Ninja Warrior competition, while Black Team tried to stay afloat earning a point in jousting.
Dancing with the Stars was the next event where each team member performed with a member of the SPASH Pom and Dance team.
Pom and Dance captains Shelby Wagner and Callyn Diamond coordinated this competition.
Black Team pulled ahead with two events remaining and, if necessary, a tie breaker.
Fisher and Diekroger kicked of the talent section with their synchronized swimming routine but lost to Bielke and Okray with their beach ball ballet routine.
Next up in talent Turner-Zick, Patoka, and Joey Roth performed the classic dance Jingle Bell Rock from the movie Mean Girls against Grant Roth who was assisted by McNamara squirting milk out of his eyes. Roth and McNamara won that round.
Khurelbaatar showed the crowd his juggling talents while riding a skateboard. Kluck taking another point for the black team with his ability to create balloon animals.
Then Tyson and Hefferan earned another point for the red team performing their ultimate hula hoop routine to the song Hips Don't Lie by Shakira. They competed against Williams and Ramos who demonstrated the evolution of hip hop.
Zinda performed the last talent for the black team, using Cassidy Mason as his assistant for an astonishing magic trick. Nelson beat boxed his way to the win for the red team.
The sixth activity for the team competition was a big wheeled tricycle race where members from each team raced tricycles around the track three times.
The teams tied, forcing a tie breaker activity where each team member wore a head band with a pedometer on it. For one minute each team member shook their head as fast as they could.
Red Team won the team win for Mr. SPASH 2017.
The individual competition began with American Idol where each team member from the sang their choice of song in hopes of impressing the judges, the seven girls on homecoming court.
The three contestants, Nelson, Patoka and Hefferan were lucky enough to get the highest scores and had to sing a second song.
It was time for the crowd to decide who the newest Mr. SPASH would be. Nelson received the loudest applause, and the crown.